Developing an App for your business is no more an option, but a must in the current world of competition and technology. Your company must equip itself with all kinds of survival and success strategies to stand out and thrive. Mobile Apps, specifically iOS Apps are one such terrific tool that can power your business, and take it to the next level.
Let us have a look at how iOS App can benefit your business from a global perspective
Affordability and growing market share
In the initial days of smartphone adoption, iPhones used to be an expensive option. Nowadays there are so many easy choices to buy an iPhone, and this is getting reflected in the steady growth of iPhone market share in the last few years. This makes iOS App development a brilliant option.
High standards of iOS App Development and Quality
Apple is known for its high standards of code development, strict guidelines, and a stringent review process, making the resultant Apps to be of good quality. This is of immense importance when one must meet global standards of excellence.
Good penetration of iOS Apps in Developed countries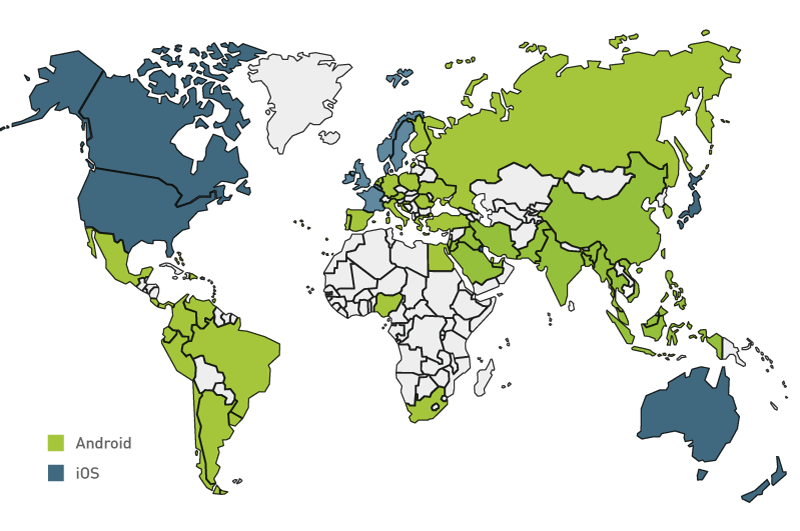 For your business to succeed at a global level, you just cannot ignore the markets of the developed nations like The US or UK. These are the specific countries, where iPhones has a leading market share. Having an iOS App for your business will give you an incredible reach to your prospective customers in these markets.
Demographics
iPhones have a loyal following with young, tech-savvy, and educated users worldwide. This is precisely the kind of clients you might want to target with your iOS Apps, to convert them into your business loyalists.
Increased M-commerce engagement
Research shows that iPhone users are more likely to make a purchase via their smartphones. This is an important criterion for retail app business owners with a global presence, to have an iOS App.
Ease of App development and maintenance in iOS
On average, iOS takes 40% fewer lines of code and is 30% less expensive to develop when compared to Android. Maintenance and fixing bugs are easier, and simpler on iOS due to less device fragmentation.
Impressive UI and UX of iOS Apps
Apple is known for its impressive UI and UX, which results in higher user engagement. This means more and more users desiring, and using iOS Apps. This translates into the better presence, image, penetration, and sales of your business globally. iOS Apps are also scalable, and grow along with your business across boundaries, thus making for an impressive ROI.
More Secure
More than any of the above points, the one that stands out, is the high levels of security assured in iOS. iOS Apps are securely protected from Virus, Malware, Phishing, Hacking, and other external threats, making it the safest platform to build your business Apps for online payments and transactions.
Conclusion
Apple with its superior hardware, excellent customer support, and an almost perfect iOS has grown into a huge presence in the minds of the customers all over the world. iOS is such a well-known and respected global brand, that it makes for an ideal choice for your Business App. Engage a reputed iOS App Development Company, like Moon Technolabs Pvt. Ltd., India, to experience the heights your business can quickly grow to, in the global space.